AMC SHOWCASE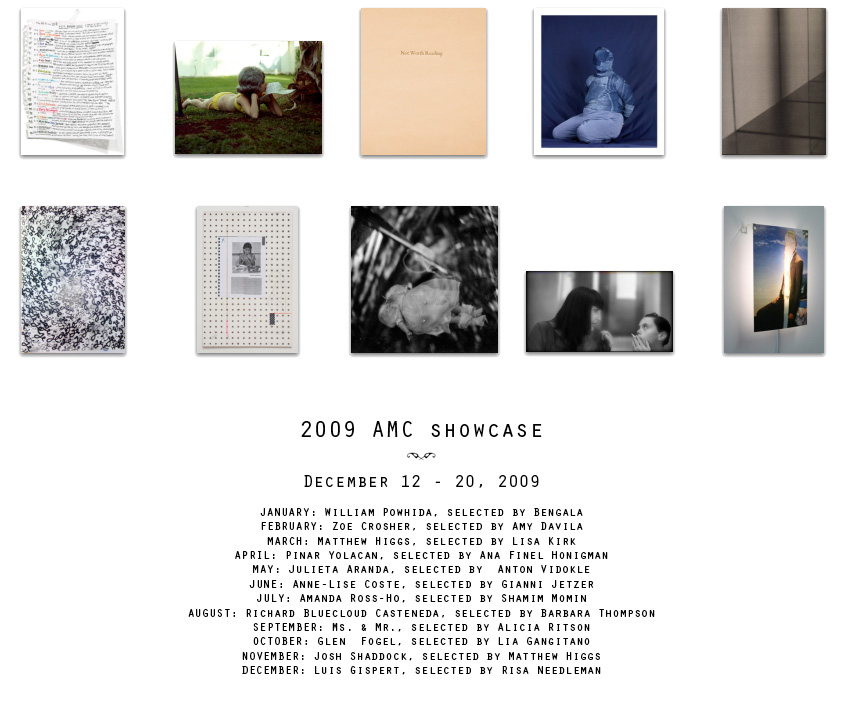 AMC SHOWCASE | William Powhida, Zoe Crosher, Matthew Higgs, Pinar Yolacan, Julieta Aranda, Anne-Lise Coste, Amanda Ross-Ho, Richard Bluecloud Casteneda, Ms. & Mr.,Glen Fogel, Josh Shaddock, Luis Gispert
DATES:
December 12- 20, 2009
INVISIBLE-EXPORTS is pleased to present the 2009 Artist of the Month Club (AMC) showcase.
* * *
Chance often looks like inspired order in retrospect and this year's inaugural Artist of the Month Club collection reminds us that sometimes the best way to encounter new art is simply to submit to it.
The AMC is a unique editions project that works like a subscription. Each month for one year, a different curator selects an artist to create a work of art exclusive to AMC. Artists ranged from the emerging to the established, encompassing a wide span of media, including photographs, prints, video stills, unique collages, letter-press and light installations—a striking variety that gives testimony to the diversity of new work being made today.
This mini-exhibition presents all twelve artworks from the project for the first time together.
Participating artists are:
JANUARY: William Powhida, selected by Bengala
FEBRUARY: Zoe Crosher, selected by Amy Davila
MARCH: Matthew Higgs, selected by Lisa Kirk
APRIL: Pinar Yolacan, selected by Ana Finel Honigman
MAY: Julieta Aranda, selected by Anton Vidokle
JUNE: Anne-Lise Coste, selected by Gianni Jetzer
JULY: Amanda Ross-Ho, selected by Shamim Momin
AUGUST: Richard Bluecloud Casteneda, selected by Barbara Thompson
SEPTEMBER: Ms. & Mr., selected by Alicia Ritson
OCTOBER: Glen Fogel, selected by Lia Gangitanop
NOVEMBER: Josh Shaddock, selected by Matthew Higgs
DECEMBER: Luis Gispert, selected by Risa Needleman
www.artistofthemonthclub.com