HOW I WROTE 'ELASTIC MAN'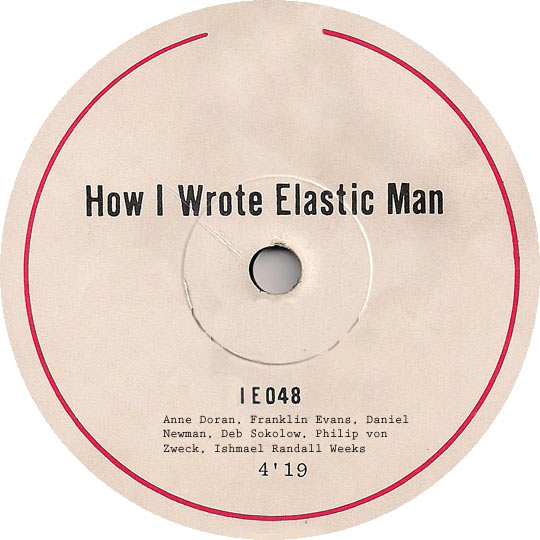 HOW I WROTE 'ELASTIC MAN | Anne Doran, Franklin Evans, Daniel Newman, Deb Sokolow, Philip von Zweck, Ishmael Randall Weeks
DATES:
February 1 – March 10, 2013
RECEPTION:
Friday, February 1: 6-8pm
INVISIBLE-EXPORTS is pleased to present How I Wrote 'Elastic Man,' a group exhibition featuring work by Anne Doran, Franklin Evans, Daniel Newman, Deb Sokolow, Philip von Zweck, and Ishmael Randall Weeks.
* * *
Obscurity and deliberate disorder can be perversely rewarding strategies for artists – performing for the viewer the experience of discovery, protecting the meaning of the work by concealing or confusing it, offering up one's own back-story only through piecemeal contextualization, and presenting even quotidian work as arcane. It's an increasingly common practice that promises to turn all knowledge into secret knowledge, and all meaning into gnostic meaning, available only to initiates and the especially devoted.
The work that makes up How I Wrote 'Elastic Man' takes the cult of arcana and the gesture of self-erasure, not as strategy, defensive or otherwise, but as querulous subject. Determining the special power that accrues when information is parceled out reluctantly, or privately, and questioning why work becomes more alluring the more it withdraws from us. Hunting down what, if anything, is gained for artists by the practice of self-obfuscation and what is the aim of a practice in which work reveals its meaning to viewers through a program of careful and discrete clue-giving (biography, reference-giving, or curatorial guidance). Often, artists engaged in the re-surfacing of archival and other "found materials" seek to cloud those discoveries over again in a performance of their own process. Perhaps we're forced to fetishize the unknowable in an age of information oversupply and infinite search, so much so that we elect to hide knowledge behind smokescreens of difficulty.
* * *
Anne Doran (b. 1957) is a Canadian artist living and working in New York. Working since the early 1980s, she's been included in exhibitions at MoMA P.S.1; The Kitchen, New York; Artists Space, New York; the Centre Georges Pompidou, Paris; Tony Shafrazi Gallery, New York; Stedelijk Museum, Amsterdam; the New Museum of Contemporary Art, New York; and 303 Gallery, New York; among others. Her work has appeared in The New Yorker, The Village Voice, and Flash Art, among others.
Franklin Evans, born in Reno, NV, lives and works in New York. He has a BA from Stanford University and an MFA from University of Iowa. His work has been exhibited at: The Drawing Center, New York, NY; Weatherspoon Art Museum, Greensboro, NC; Yerba Buena Center for the Arts, San Francisco, CA; and El Museo del Barrio, New York, NY. He has had solo exhibitions internationally, including "2008/2009 < 2009/2010" at Sue Scott Gallery (New York) in 2009. In 2008 he co-curated "Perverted by Theater" at Apexart. He has been selected for residencies by The Marie Walsh Sharpe Space Program, LMCC Workspace: 120 Broadway, and Yaddo. His work is in the permanent collections of El Museo del Barrio (New York), The Weatherspoon Art Museum, The Sweeney Art Gallery, University of California, Riverside, and Progressive Art Collection.
Daniel Newman (b. 1978) is currently dividing his time between New York and Berlin. His work has been exhibited at Fredric Snitzer Gallery, Miami; Gallery Diet, Miami; Bas/Fisher Invitational, Miami; Daniel Silverstein, New York; and the Outpost for Contemporary Art, Los Angeles; among others. He is the recipient of the Ruth Epstein Memorial Prize for Excellence in Sculpture from 2002.
Deb Sokolow (b. 1974) received her MFA from the School of the Art Institute of Chicago in 2004 and lives and works in Chicago. In 2013, Deb Sokolow will have solo shows the Wadsworth Atheneum Museum of Art in Hartford, CT and be included in a group shows The Drawing Center in New York. Her past solo shows include The Kemper Museum in Kansas City; The Spertus Museum of Art, Chicago; a 12 x 12 show at the Museum of Contemporary Art in Chicago; the Abrons Art Center in New York City; INOVA in Milwaukee; and The Moore College of Art in Philadelphia. She's been included in group shows at the Van Abbemuseum in The Netherlands; Scottsdale Museum of Contemporary Art in Arizona; Smart Museum in Chicago; Voorkamer in Belgium; and Good Children Gallery in New Orleans. Sokolow's work is in the permanent collections of the Scottsdale Museum of Contemporary Art in Arizona, Museum of Contemporary Art, Chicago, the Spertus Museum in Chicago and The Kinsey Institute for Research in Sex, Gender, and Reproduction in Bloomington, Indiana Her work has been written about in Artforum.com, Art in America.com, Artnet, Paletten, Art Papers, Art on Paper, Artslant, Beautiful Decay, Dagens Nyheter, The Kansas City Star, The Milwaukee Journal Sentinel, The Chicago Tribune, Chicago Sun-Times, Chicago Magazine, New City, Timeout Chicago, and Jettison Quarterly and she will be included in Phaidon's upcoming VITAMIN D2 hardcover survey of contemporary drawing practices.She is a 2010 resident of the Art Omi International Artists Residency and a 2012 recipient of a Artadia Chicago grant. Deb Sokolow is represented by Western Exhibitions, Chicago.
Philip von Zweck is a painter and artist who lives and works in Chicago, IL. He has had solo exhibitions and projects at Medicine Cabinet, threewalls, The Museum of Contemporary Art, Gallery 400, among others, and has appeared in numerous group exhibitions across the country and internationally. From 1995-2010 he produced a weekly radio program "Something Else" on WLUW in Chicago, and from 2005-2008 he ran the gallery, VONZWECK, out of his living room. He was the recipient of the penultimate Richard H. Driehaus Emerging Artist Award.
Ishmael Randall Weeks was born in 1976 in Cusco, Peru; educated at Bard College (2000) and attended The Skowhegan School of Painting and Sculpture (2007); and currently lives and works in Lima and NY. He has exhibited internationally for the last 12 years and his work is in the collections of the Albright Knox Art Gallery, Buffalo; MIMA, Middlesbrough, UK; The Museum of Art in Lima (MALI), Lima, Peru; and the MACRO Museum, Rome, among others.