LISA KIRK | Left Behind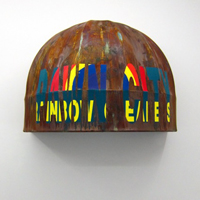 LISA KIRK | Left Behind
DATES:
December 13 2013 – January 26 2014
RECEPTION:
Friday, December 13: 6-8pm
24-HOUR DURATIONAL PERFORMANCE:
January 25 – January 26, 2014
INVISIBLE-EXPORTS is pleased to present Left Behind, with a special guest performance featuring Marina Abramović as the Grim Reaper, the third solo exhibition of new work by Lisa Kirk.
***
Lisa Kirk is a multimedia artist working as a visual and critical renegade – re-appropriating, restaging and re- contextualizing imagery, artifacts, and colloquial idioms from a political and social culture built on paradox and contradiction. The contextual foundation from which Kirk builds her work is suffused with power structures, which are themselves laced throughout with collective doubt and institutional suspicion.
In Left Behind, an exhibition of works on paper, sculpture, custom therapeutic elixirs, and installation, Kirk delivers work saturated with our ubiquitous cultural fear of a near-future of near-ruin. Her works on paper depict a petrified rainbow, rusted in a state of imprecise oxidation, a simple geometry ravaged from environmental effects, and an abstraction that suggests the half-life afterlife of eroding abandoned steel – the degradation of environment and atmosphere, at once physical, imagined, and portentous. With her sculptures, rusted-over broken umbrellas abandoned in a storm, she transforms everyday detritus into disaster artifact. The series evokes not only the ever-nearer-seeming specter of apocalypse weather (the result of indifference so clear it has given rise to countless weather-control conspiracy theories), but the desperate compulsion with which we seek out shelter — "bliss points," Kirk calls them — to take asylum from anxiety.
During the exhibition, Kirk will be offering aura readings paired with custom elixir prescriptions in collaboration with the juice company RAWPOTHECARY, Natures Pharmacy. These personal performances aim to help improve your emotional, spiritual, and physical health.
As a final component, starting on January 25 at 13 o'clock, there will be a special 24-hour durational performance featuring Marina Abramović as the Grim Reaper.
For more information on the aura readings and the performance, or to RSVP, please contact the gallery (information below).
***
Lisa Kirk (b. 1967) is a New York based artist whose work has been exhibited in institutions and galleries both domestically and internationally, including MoMA PS 1, New York; Galeria Comercial, PR; PARTICIPANT Inc., New York; and MOT International, London; among others. She has contributed projects to the 2009 PERFORMA Biennial, North Drive Press, and Creative Time, New York. Her work has been featured in The New York Times, Flash Art, Frieze, Art in America, The New Yorker, New York Magazine, and Art Review Magazine, among others.