MICHAEL BILSBOROUGH | Changing of the Guard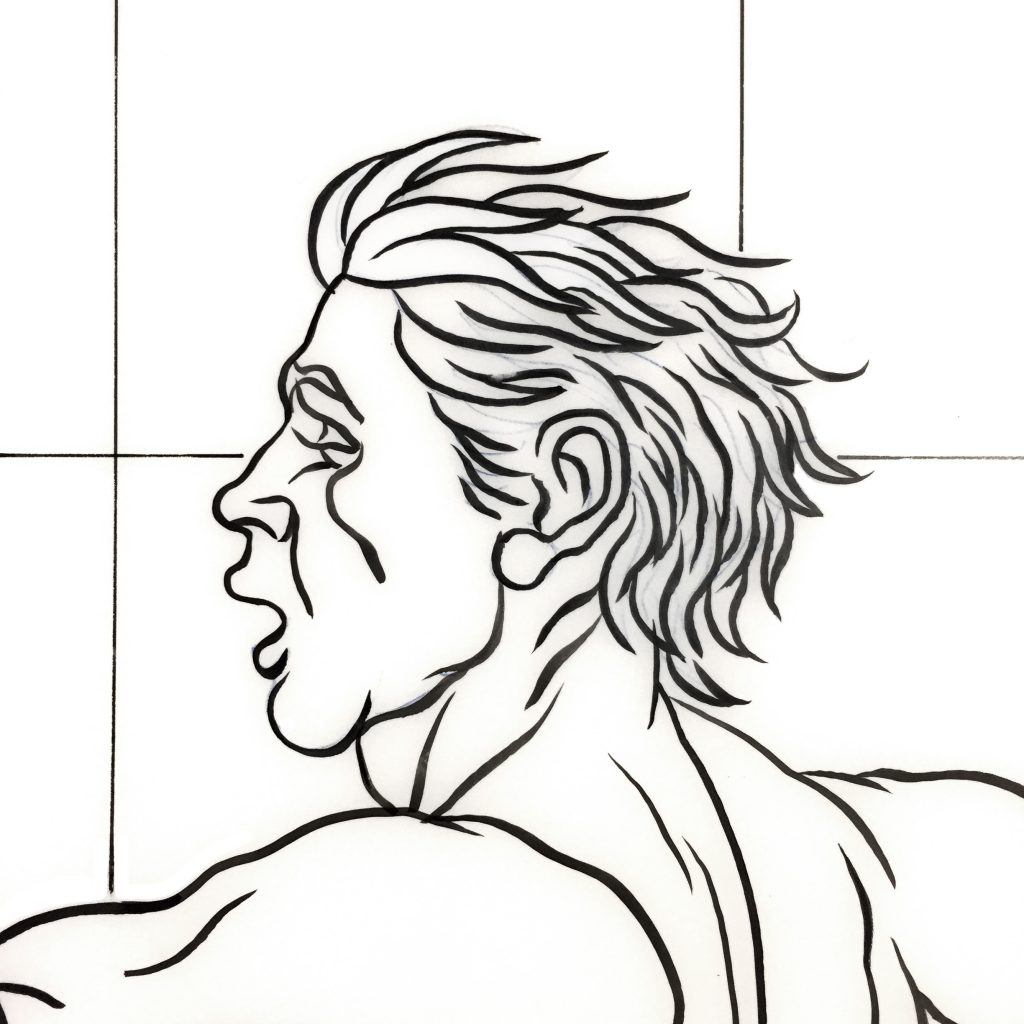 MICHAEL BILSBOROUGH
Changing of the Guard
July 5 – 14, 2018
"Changing of the Guard" is a hand drawn mural by Michael Bilsborough, on view at INVISIBLE-EXPORTS from July 5-14. Bilsborough conceived, designed, then executed the mural directly onto the gallery walls.
"Changing of the Guard" envisions male figures clashing in a vigorous tableau of sex and aggression. The figures are life-sized, modeled on male bodies observed from numerous sources, including classical sculpture, athletes, shirtless dancers, and more. The composition is inspired by a 15th-century engraving by Pollaiuolo, grouping figures into couples, reciprocal pairings, and conjoined counterparts.
"Changing of the Guard" celebrates male bodies as sources of fantastic desire, thereby joining a contemporary drawing tradition that includes Paul Cadmus, Tom of Finland, Paul Thek, Robert Smithson, Mike Kuchar, and many more.
Contradicting this celebration, "Changing of the Guard" simultaneously responds to concomitant crises of democracy and masculinity. In this historical moment, the fate of democracy and value of masculine power are in question. Indeed, patriarchal excess has led our democracy to the brink, which should come as no surprise.
Moreover, bodies—and our perceptions of them—are progressively mutable and inclusive, departing from inherited traditions, some of which are represented in "Changing of the Guard."
The artist writes, "Seeing the Pollaiuolo engraving in the 2017 Michelangelo exhibition at the Metropolitan Museum, I was impressed by its choreography of libido and violence. But I also questioned the context of the exhibition's rhetoric about 'genius' and 'divine' artistry — especially given that the show coincidentally opened only weeks after the passing of Linda Nochlin, who famously looked past those myths and labels."
"Changing of the Guard" is on view July 5-14, noon to 6pm.
Michael Bilsborough (b. 1979) lives and works In New York. He grew up in the California desert, studied philosophy at Columbia University, and earned an MFA at the School of Visual Arts.  This is his third exhibition with INVISIBLE-EXPORTS.